Thank you for using NurseBrain! Our goal is to help you save time and be as efficient as possible throughout your entire shift. Organization is key, and in in the following interactive tutorial, we will be going over NurseBrain's core features designed to help you stay organized and on top of your shift. You will learn how to organize and handoff patients quickly and easily, add tasks & medications reminders to stay on time, create a routine to optimize your workflow and much more!
The Home Screen displays a brief overview of how your shift is going. It shows you, at a glance, how many patients you currently have assigned and the number of tasks or medications that still need to be completed. The Home Screen also displays a tiled list links to popular areas of the app:
The Patients Tile, when tapped, navigates you to the Clipboard Screen where you can view your patient list in detail. On this screen you can add, edit, delete and handoff patients
The Todo Tile, when tapped, navigates you to the Todo List where you can view your tasks and medications. On this screen you can add, edit, and delete tasks and medications. You can also manage your routine (a pre-populated set of tasks & medications you create ahead of time and check off during your shift)
The Care Plan Tile, when tapped, navigates you to the Care Plan builder where you can write customized care plans. Care Plans are automatically saved and can be shared as a PDF printout.
The Notes Tile, when tapped, navigates you to the Notes Screen where you can view your notes. On this screen you can add, edit, and notes
At the bottom of the Home Screen (on mobile devices) and also on the the left side of the Home Screen (on large screen devices) there is a navigation menu that navigates to the rest of the app. The navigation menus has buttons linking to the Home Screen, Clipboard Screen, Todo List Screen and the Briefcase Screen. In the briefcase you will find helpful nursing tools and resources.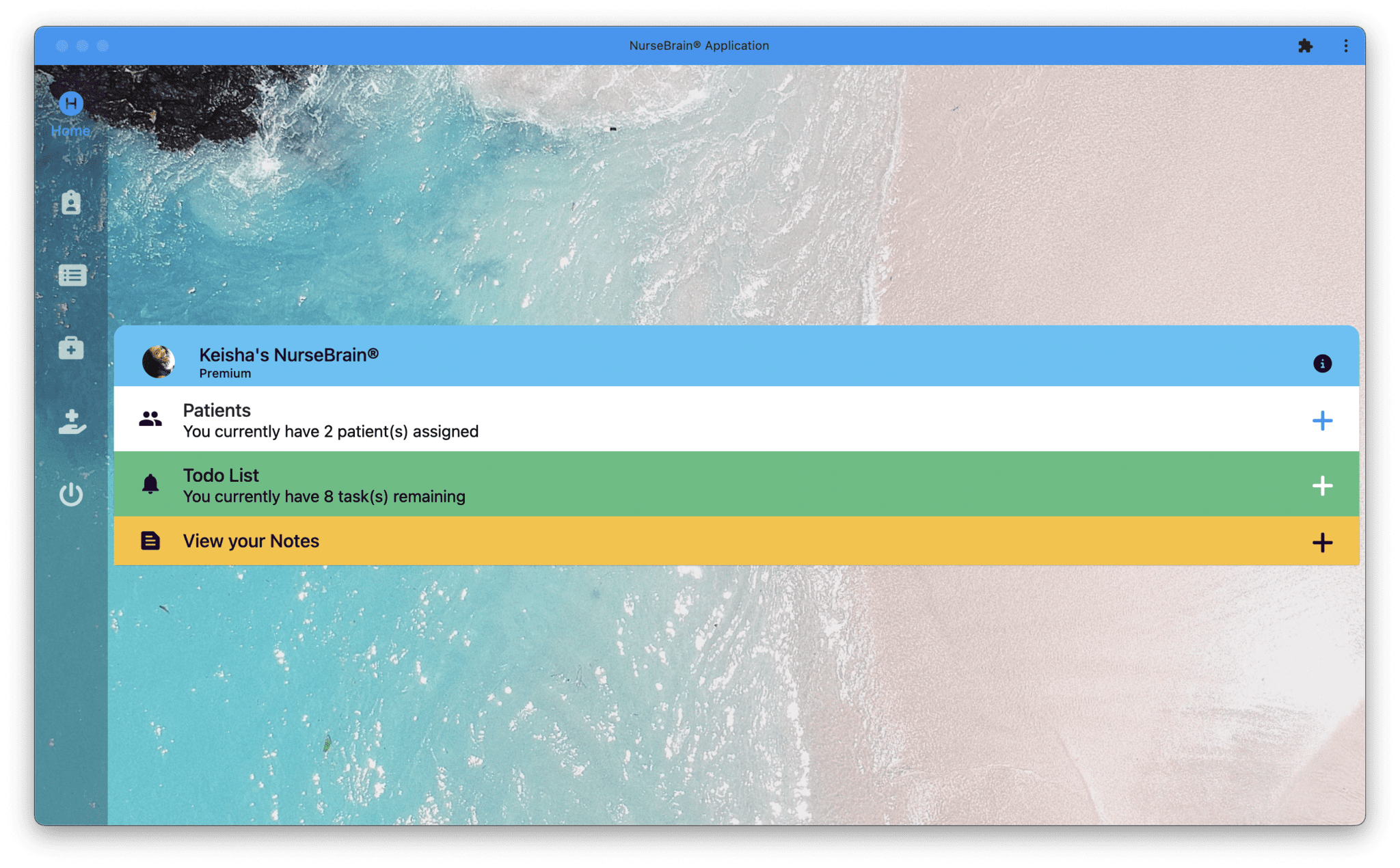 Home - Displays an overview of your shift
Clipboard Screen - Displays an overview of your patients
Todo Screen - Displays a list of your Tasks and Medications
Briefcase Screen - Displays helpful tools & resources
Care Planner Screen - Launches the Care Plan Builder
Logout Button - Ends your session and logs you out
Profile picture - Tap to view profile
Patients Tile - Tap to view your patients
Info Button - Displays the best practices for the current screen
Todo Tile - Tap to view your tasks & medications
Notes Tile - Tap to view notes
The Clipboard Screen displays the list of patients under you care. Each of your patient's information is neatly organized into a Patient Stack. A Patient Stack is a stack of cards containing information relevant to the care of your patient. Four of the cards are organized into the evidence based SBAR framework. Each Patient Stack can be edited, handed off and deleted as needed.
Each Patient Stack contains 8 cards - Situation, Background, Assessment, Recommendation, Significant Events, Todo List / MAR and Resources:
Situation Card

Displays a general overview of the patient. It contains the patient's demographics, allergies, alerts, the chief complaint and diagnoses

Background Card

D

isplays the history and background information related to the current situation. It contains completed procedures, surgeries and imaging during and medications that the patient is taking or has a history of taking

Assessment Card

Displays a detailed head to toe assessment system by system. It also contains intravenous access lines, drips, lab results, vital signs, input and output

Recommendation Card

Displays the patient's plan of care including planned consults, therapies, procedures and imaging along with relevant requests and recommendations for the patient's continued care

Significant Events Card

Displays notable events that have taken place during the shift that should be relayed during the patient handoff

Todo List / MAR Card

Displays planned tasks & medications. Tasks and medications can also appear as part of a routine that you can create ahead of time to save time

Care Plan Card
Resources Card

Displays medication & diagnosis references relevant to the patient's care. These references are presented as chips, and when tapped, navigate you to the applicable peer reviewed medical reference
Patient Handoffs are a core feature of NurseBrain. Through NurseBrain, patient handoffs are significantly expedited while simultaneously increasing patient safety through the standardization of handoff communication.
Time Savings

Nurses spend a significant amount of time looking through a patient's chart. Most of that information is summarized onto a piece of paper (ie., nurse report sheet, nurse brain sheet) and shredded at the end of the shift. Instead of this information being disposed, NurseBrain allows it be securely and efficiently shared with the next nurse so that it can be leveraged to save time. Nurse receiving handoffs through NurseBrain are able to spend less time gathering information and get to the patient's bedside much more quickly

Patient Handoff Report

At the bottom of each Patient Stack, there's a handoff button that, when tapped, provides the option to handoff your patient either as a QR-code or a PDF printout

PDF Paper Printout

The PDF paper printout is most beneficial when handing off your patient to a nurse that is not using NurseBrain. The printout is legible, concise and organized and can help the next nurse start their shift quicker and confidently

QR-Code

The QR-code is best for when both the outgoing and incoming nurse use NurseBrain. The outgoing nurse generates a QR-code which is then scanned by the incoming nurse. The patient's information is instantly imported into the incoming nurse's NurseBrain. In order to scan the QR-code, the incoming nurse must be using NurseBrain from a mobile device with a camera

Alternatives

If you are the incoming nurse receiving the patient handoff from a nurse that isn't using NurseBrain, we recommend the following steps:

Request the outgoing nurse (giving you report) to use the SBAR framework. Since NurseBrain is SBAR based, information is entered more efficiently into the app if the patient handoff is conducted using SBAR
Use NurseBrain from a computer (https://nursebrain.app) instead of a mobile device in order to take advantage of the larger screen and larger keyboard. A larger screen allows you to see the appropriate fields more quickly and a large keyboard allows for faster typing

Managing Patients

Through NurseBrain, you can easily add, edit and delete patients from your patient list as needed throughout your shift

Adding Patients

You can add a patient by tapping the floating action button on the bottom right hand corner of the screen. Upon tapping the action button, you'll be able to add a patient manually or instantly by scanning a QR-code

Manual Addition

When you select the manual option, you will be taken to the Add Patient screen where you can enter the patient's details in the appropriate fields. Once you're finished, make sure to tap the Save button

Instant Addition via a QR-code

You can add a patient instantly to your patient list by scanning the QR-code generated by the nurse handing over their patient to you

Editing Patients

At any time during your shift, you make changes to your patient by tapping the Edit button at the bottom of the respective Patient Stack. Alternatively you can also swipe right or double tap the patient you want to edit
After performing one of the above steps, you will be taken to the Edit Patient screen where you can change any of the information as you see fit. Once you're finished, make sure to tap the Save button

Deleting Patients

You can delete a patient by tapping the Delete button at the bottom of the respective Patient Stack. Alternatively, you can also swipe left on the patient you want to delete.

Please note, once you delete a patient, the action is permanent and cannot be undone!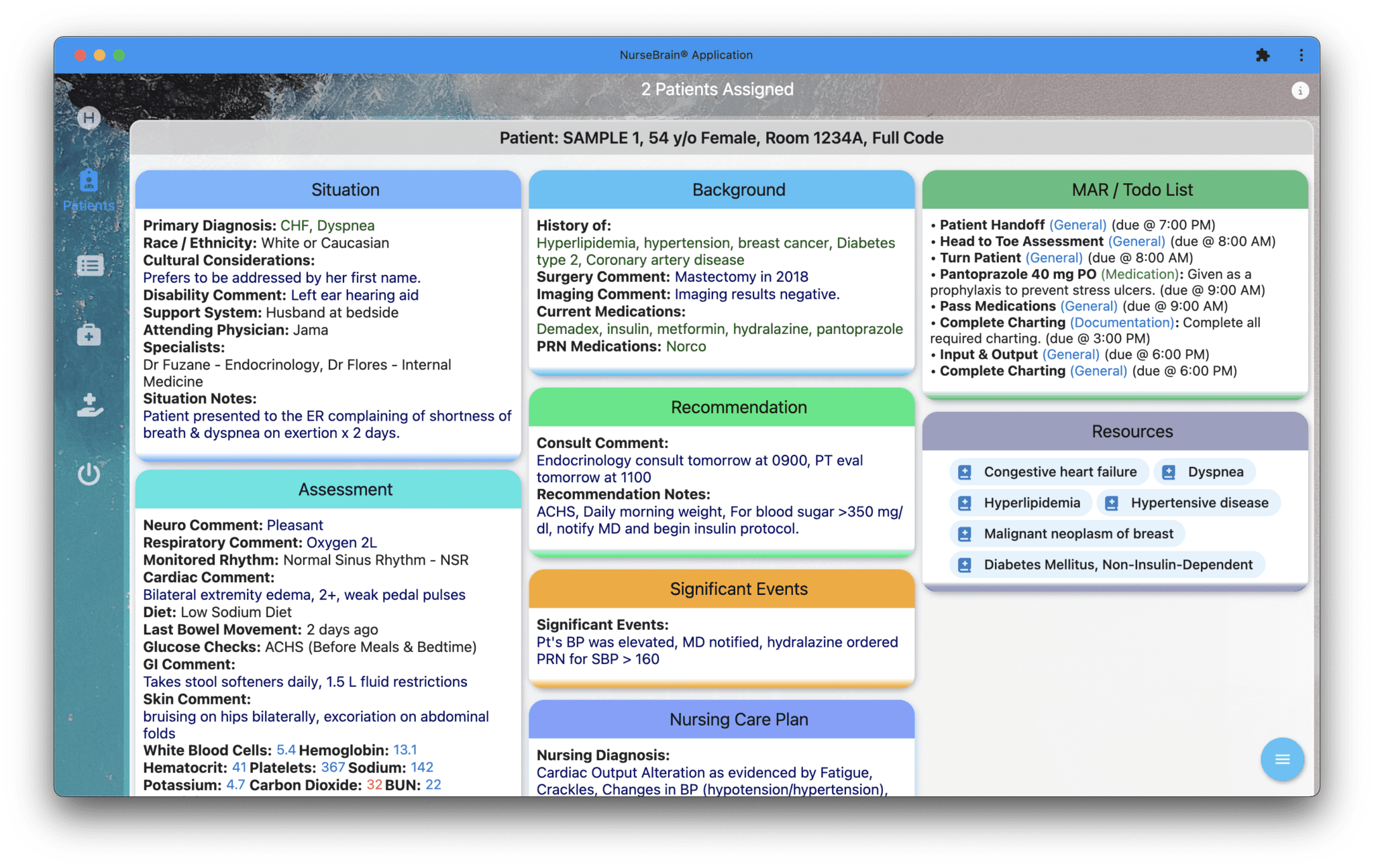 Info Button - Displays the best practices for using the Clipboard Screen
Patient Stack - Displays a Stack of Cards for the respective patient
Todo/Mar Card - Displays scheduled tasks & medications
Situation Card - displays a general overview of the patient
Background Card - displays the history and background information pertaining to the current admission
Recommendation Card - displays the patient's plan of care including relevant requests and recommendations
Significant Events Card - displays notable events that took place during the shift
Resources Card - displays chips that link to disease and medication medication references from trusted sources
Care Plan Card - displays the patient's personalized care plan
Resource Chip -Tap each chip to view detailed information
Action Button - Tap to add a patient manually or instantly via a QR code 
Tap to delete your patient
Tap to share your patient handoff as a QR-code or PDF printout
Tap to make changes to your patient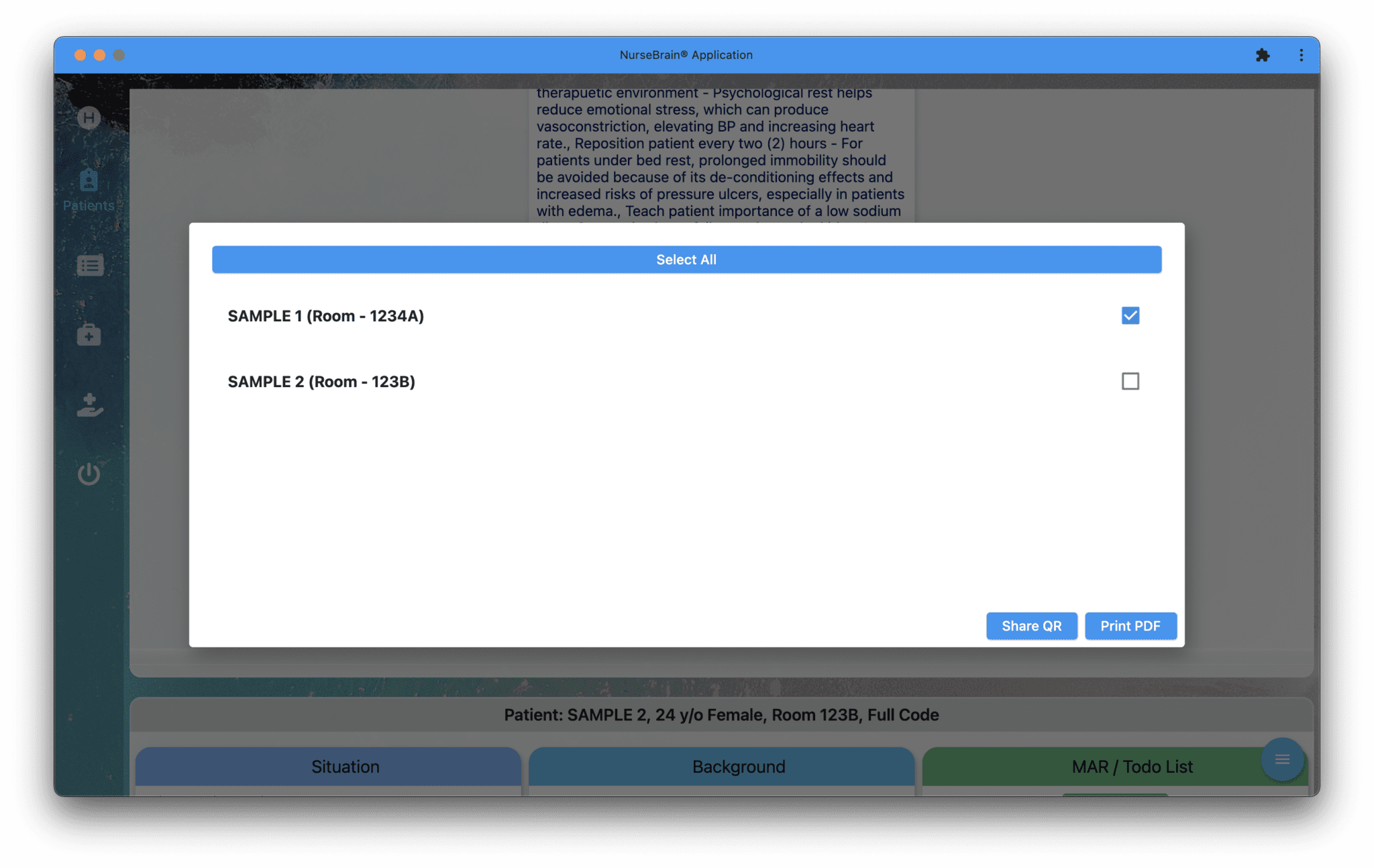 Select the patient(s) you want to handoff. Patients can be handed off as a PDF printout or as a QR code that can be imported into NurseBrain
Share patient(s) as a QR code. Receiving nurse must scan the QR code in order to instantly import the patient(s) into their NurseBrain
Share patient(s) as a PDF printout